Our Mini-Musketeer Fencing classes is targeted at children 7-10 yrs old.
Designed with the Canadian Sport for Life (CS4L) model in mind, our focus is on the ActiveStart and Fundamentals. This program teaches kids the basics of fencing, including footwork, technical skills and the rules of the sport in a fun, play based learning environment.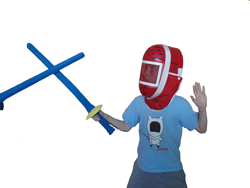 We provide age appropriate plastic and foam fencing gear for use during the classes.
We can help improve your child's motor skills, social and perceptual growth, self discipline, self confidence and self responsibility in a fun and active environment. Participants will be taught skills in with Canadian Fencing's yellow armband curriculum.
Our youth instructor Kristine Richardson-Stang is a Canadian and British certified fencing coach as well as an Ontario certified teacher.
Next Scheduled Class:
Starting – Sept 11th, 2016 6:30pm – 7:20pm
Price: $75.00 (eight classes)
Location:  Brock University Walker Complex Dance Studio
Register online: Brock Sports Community Programs